The Creative Visualization Meditation Seminar Teaches the fundamentals of  meditation using Ancient methods of visualization techniques. Michael has taught hundreds how to tap into their own psychie to relax and enjoy life rather than stress.  You'll learn how to relax and close your mind to outside disturbances  (street noises, children, spouses, pets, etc.)  - Learn how people use creativity to empower themselves or bring forth the information that will give you the clear and positive  outlook  needed  for  daily balance. This seminar will also teach you how to open to your psychic gifts. Learn  how  other's experience out of body travel (O.B.E.'s) and how  to  utilize  guided  imagery  to achieve all of your life's goals on the astral plane then bring them  into  the forefront of  your own reality & aid your daily spiritual needs. Michael's NEW Meditation CD's will be available for purchasse at the end of each seminar.  Designed to help you re-create the meditation experineces from this seminar on your own again and again.  Learn what the  experts  haven't  shared  about   true  peace  and  tranquility  until  now.... Next Date and Location to be Announced:

Seminar Fee: $175.00 in advance by or $195.00 thereafter.                                 

& Buy a copy of the Creative Visualization Meditation CD

for just  $30.00 at the Seminar. To Make your reservation

contact Michael at (626) 791-1129 icghosts2@hotmail.com Or                                    or

Donna D' Amore at the  Heart & Soul  Healing Arts Center in Pasadena

at (626) 798-8337

Click here to add your text.

Hematite Stars or Hearts with Garnets $39.00ea

Scroll below for Michael's upcoming Events including Psychic Seminars, Lectures, New Moon Meditations, Psychic Parties, & Communication Circles (Seances) & his Musical Concerts...and more.


     The Aura/Chakra 101 Seminar

Next Date: Saturday May 29, 2010 at the Learning Light Foundation in Ahameim, California.  Time 1-5 pm Pot Luck Lunch, Drinks and desert provided. 

Call Michael at (626) 791-1129  or the Learning Light Foundaiton

to make your reservation. Seating is "very" limited and there is a discount for those who register and pay early. 

Price $175.00 prepaid by May 10th or $199.00 thereafter

A Free Mini Psychic Reading is included at the end of the seminar by Michael.

- VOTED THE BEST PSYCHIC RELATED SEMINAR in LOS ANGELES by the LA Weekly

Seminar Fee $175.00 prepaid  or $225.00 thereafter (Non Refundable)  Here you'll explore and delve into the Psychic side of yourself most have never dared on their own. Together Michael will teach you how to actually see Auras, where to look for them and what their colors say about you and the other students and what Chakras are and how they intermix within the human Aura body. This all day Seminar begins with a lecture and visuals by Michael, showing you how to look for the Human Aura, what you're actually looking for and how to tap into them anyplace, anytime of the day or night and how you can identify the colors with what's going on with the person, animal or any living thing, too.  Then he'll team pairs of students and teach you how to read each other. We re-group, discuss and the teams are re-mixed until everyone has read or been read by everyone else. You WILL See Auras by the end of the class and Michael will personally read everyones Aura colors as an added bonus. Michael has taught thousands of people how to see and analyze Auras/Chakras on  psychic  levels and  interpret them through the past 12 years. Be one of a handful to know how to Read others. Learn how AURA'S not only reveal mood  changes  &  Spirituality,  but  how they govern our Spiritual Growth Potential, too. THIS IS THE PEFECT SEMINAR FOR THOSE WHO TRULY WISH TO TAP INTO THEIR OWN PSYCHIC ABILITIES!  You'll be instructed on Guided Imagery through Meditation and will actually learn  where to look for Auras and how to see vibrant color around  you.  Wear comfortable clothing and bring utencils for note taking - sorry no tape recorders or Video cameras will be permitted during the Seminar.

Email icghosts2@hotmail.com for more information or contact Michael directly at (626) 791-1129

The Psychic Awareness/Seminar 

Time: 11:00 am to 5:00pm Next Date: To be Announced

Seminar fee $275.00 prepaid  or $350.00 thereafter (non-refundable) During this seminar, Michael will teach you how to open and close your personal psychic energy fields enabling you to work with & find out what your psychic stregnths are. He'll introduce you to your personal spirit guides and teach you how to contact them on your own. You'll learn how to work with Pendulums, Dowsing Rods and other tools to help you make contact with your spirit guides on a daily basis. Together we'll delve into the psychic world and you'll learn how to utilize these gifts for the highest good of yourself and others. Well discuss and analize dreams, and you'll learn how to Ground yourself - one of the most important aspects while working in the Psychic Realm for your personal protection. We'll discuss basic techniques  related to each of these and Michael will take each participant through a guided imagery grounding meditation.  Wear comfortable  clothing  Each participant will receive a free mini Psychic Demo Reading with Michael afterwards. Cookies, Coffe, Water will be provided.

              You won't want to miss any of Michael's Seminars!

The NEW MOON MEDITATION SEMINAR

Next Date &  Location to be announced

Seminar fee $175.00 prepaid  or $199.00 thereafter.  During this special seminar you'll learn how to close your mind to the sounds of the outside world and RELAX. You'll be taken through 3 different meditations and journey to places in and outside of your mind and body through Michael's own Creative  Visualization  techniques  utilizing  several  different ancient methods. We'll  explore  your   own  true   Psychic  Gifts  and  learn  through  example  how  these  gifts  can  aid  in  advancing  your  self   awareness   and   self   empowerment.  You'll learn how to stay focused towards your goals maintain then during the full 30 day Moon Cycle. Bring Bottled water and paper for note taking if you need it. Dessert, tea and punch provided. - Sorry No Tape Recorders will be allowed Wear comfortable clothing.  Please call our offices to register (626) 791-1129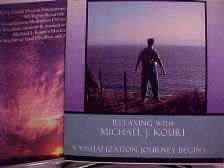 Ghost Stories with

Michael J. Kouri &

Richard L. Senate

Michael J. Kouri and Richard L. Senate shared their collective experiences with real Ghosts, Ghouls & Goblins as the two world famous Haunted House Investigators came together to share their combined 50+ years of Supernatural experiences with the audience of the Learning Light Foundation in Anaheim, California. 

Michael J. Kouri is a Psychic/Medium and Parapsychological Investigator who has written 13 books about real ghosts who haunt abodes in California from Alcatraz to the Whaley House in old Town San Diego. he has appeared on international television programs with Barbara Walters, on the History Channel, Travel Channel, French Televisions Ghost Hunters of the World, Home & Garden T.V. the Sci-Fi Network, and has been the instudio guest with Mark & Kim on Kost 103.5, Charlie Tuna and Leahann on KBIG 104, KLAC with Michael Jackson and Kevin & Beane on KROQ.

Richard L. Senate has written nine books related to Ghost Hunting and the supernatural. He has appeared on international television and is an expert in the field.  Mr. Senate is one of the nation's top Ghost Hunters. He's been seen on shows including: Sightings, French Televisions Ghost Hunters of the World with Michael J. Kouri, Beyond Belief, The History Channel, Sci-Fi Network, Haunted Hollywood and many more. He has lectured and taught parapsychology in universities across California and currently conducts tours of Haunted Ventura. See his website at www.Ghost-Stalker.com and be sure to tell him you found him through our website.

The two men were very well received and the audience enjoyed hearing their true accounts with the supernatural.

~~~~~~~~~~~~~~~~~~~~~~~~~~~~~~~~~~~~~~~~~~~

Michael J. Kouri spoke to a standing room only crowd at the Burbank Public Library at the new

Buena Vista Branch

His program was titled:

The Most Haunted Houses of the Southland

Do you know the ghostly legends of Pasadena,

Los Angeles, Burbank and Hollywood?

Michael presented stories of real ghosts who haunt Southern California.  He showed slides of real ghosts he's captured on film through the years and talked about haunted hot spots in Beautiful downtown Burbank as well as Pasadena, Hollywood, Glendale and the San Fernando Valley.  He shared what it's like to be a psychic/medium, the ups and downs and the audience was mesmerized.

He signed copies of his latest book the 4th edition of Haunted Houses of Pasadena and printers proof copies of a new book called Haunted Houses of Orange County.

Here are some of the emails Michael J. Kouri received the day after this prestigious lecture in his home town of Burbank, California.

Hi Michael,

What a fantastic lecture you gave us last night! I was so impressed with what you do and how it all works. I hope the Burbank Library will have you come and speak again and hope that next time you have more time to share more information on who haunts Burbank. I could have listened to you for 4 or 5 hours. You have a wonderful way of communicating, a great voice and an inner honesty. I really like it a lot. Thanks so much again - more power,

Chastity -- Burbank, Ca.

Dear Mr. Kouri,

You're sure an incredible guy! Hats off to the Burbank Library for choosing the ideal person to come and lecture for us. I think you're lecture was the "BEST'" the Burbank Library has ever had!

Theresa Martinez and her 3 sons --Toluca Lake, Ca

Dear Michael J. Kouri,

I was so impressed with your speech last night at the Buena Vista Branch Library.  You totally captivated the audience for the entire time you spoke and it was so quiet, one could easily hear a pin drop in the auditorium. I applaud you on your honesty to reveal what it's really like to be a psychic/medium. It was so refreshing to hear that you believe that these are God given talents.  Your Mom should be proud!

Lynn Smith--Glendale, Ca.

Awesome lecture Mr. Michael!

Thanks for helping me to better understand the study of Parapsychology. My wife and I enjoyed meeting you in person at both the Hollywood event and again at the Burbank Library and we hope we can attend other lectures and your tours too. By the way, OI caught you on 4 television shows this past week and was so excited to read about you in the newspaper that you would be speaking in person in two local places.  Awesome!

Mark Jenkins -- Hollywood, Ca.

Hi Michael, I LOVE your New Television Show - Man You're one Fantastic Guy!, Craig Hokanian, Glendale, Ca.

If you' d like to make a reservation for a Private Reading, a Psychic Party or attend a Haunted House Walking Tour Email us directly at icghosts2@hotmail.com or call our offices in Pasadena, Calif at (626) 791-1129

Michael offers amazing tours - Day and Evening Tours are available including meals at haunted restaurants, mini Psychic Demnostrations of his abilities plus you'll learn the truth about Life, Death, and the Movies and TV shows you watch that scare you...

Want to be really scared??? Take one of Michael's tours if you dare....what's really scary is the stories he tells are TRUE!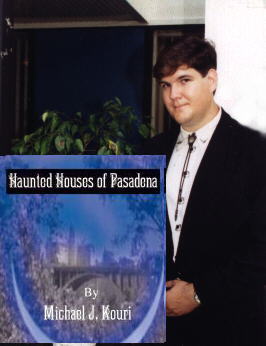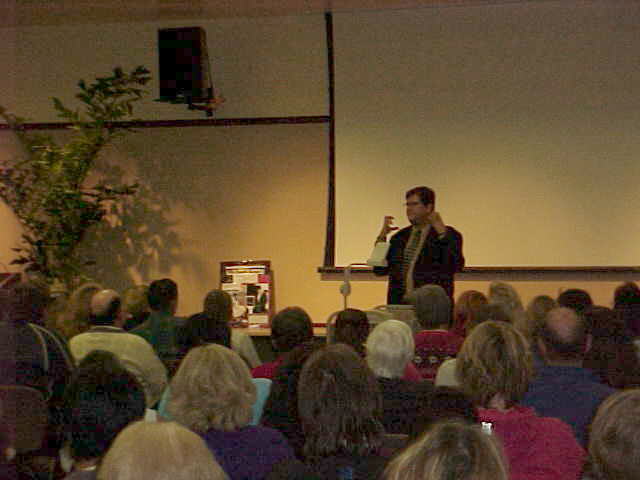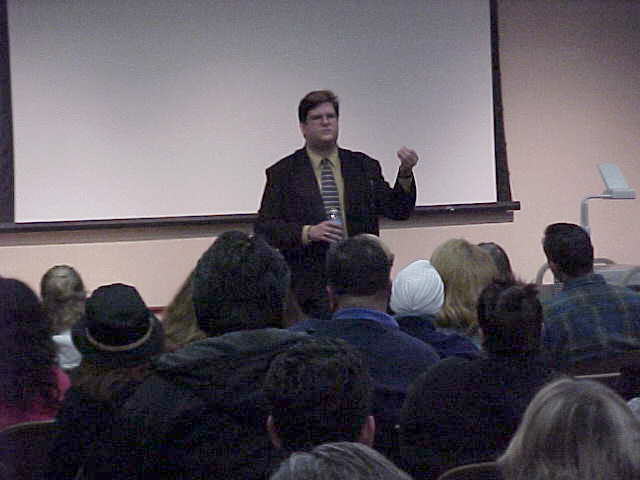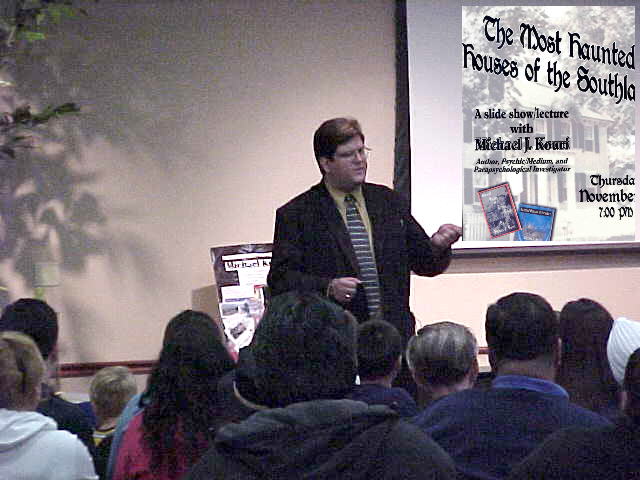 Michael educates people about Quantom Psychics & Parapsychology

Michael captivates standing room only crowds with his interesting stories and personal encounters with the supernatural...everyone said they could listen to him for hours....

The 5th printing

of
Haunted Houses of

Pasadena  will be available in 2011

The Teachers as well as the students were especially interested in Michael's theories of why ghosts exist....

Dear Mr.Kouri, Thank you so very much for coming to our school during the Author's Festival to share with our students how to write a book, get it published and all about your fascinating career.       The students were spellbound with your stories and we've received dozens of letters from the students and their parents as to when you will come back and share with them again. You are a special young man!  --- Sincerely the faculty of Baldwin Middle School Alhambra, Ca.

Dearest Michael,

Wow is all I can say to you for the Fantastic Psychic Reading you did for me over the telephone a few months ago. I had no idea that someone as gifted as you could really exist in the world and am a firm believer now after my session. There is no way in the world you could have known the answers to the questions I asked you and when you described my great grandmother to me I was astounded! There's no way you could have known who she was, what she looked like and the handicap she had either.  I had to email you again and tell you how much the information you provided me has changed my outlook on life. I know I can deal with my cancer as my great grandmother and mother did themselves. I Love your special Cancer for Women Meditation CD too. It has helped me to realize that I can escape when I need too after a hard day of lifes challenges. I'll be recommending you to all my friends.

You are indeed a Gift to the World Mr. Kouri and I wish you all the success and love you give to your clients. -- Darlene Mc Allister, Denver, CO.

*** Thank You Darlene, you're very welcome! Michael J. Kouri

Letters to Michael in response to his appearance on the Coast to Coast Radio show with George Noory

Hi Michael I heard your interview on the Coast To Coast AM radio with George Noory last week.  I've been listening to Coast To Coast since 1997, and I have to say your interview was one of the best they've ever had. I especially enjoyed your candidness about ghosts, what they are and why they tend to haunt certain places. Intriguing. You have an awesome voice too - are you single?

- Denise Capanella, Orlando Florida.

Hi Mr. Kouri, That was a great program! Your energy and openness carried the show. I had the impulse to contact you earlier morning, but waited for what was said to sink in. Some questions came to mind: If we are surrounded with electromagnetic Soul energies from ages past, how do you filter out all the contact points? (i.e. Dead People, Animals, Plants) It appears that we are  multi-dimensional beings, and it is with intent that we allow communication, but in doing so, are we subject to the Law of cause and effect? Polymorphism, or multi entities joining together for communication seems possible. How do you manage their messages? In many of the worlds religions/spirituality there is mention of the energizing God force, called by many names, The Word, the Logos, Nad, Nam, Shabd, Music of the Spheres. When receiving information from the other realms, must you consciously contact this Force, or is IT just present and assisting your intent? I do apologize for all the questions, and I respect your time, so do not feel it necessary to reply, Michael. Continued Success! Thanks again for such a thought  provoking program. Jeff

Hi Jeff, Let me see if I can answer your questions: If we are surrounded with electromagnetic Soul energies from ages past, how do you filter out all the contact points? (i.e. Dead People, Animals, Plants) ***The Filtering seems to happen when I enter my trance state. I don't know how to explain it in terms that you could understand but there is always a spirit guide with me when I enter my unconscious state and I believe that they help filter through the contactpoints for me.

It appears that we are multi-dimensional beings, and it is with intent that we allow communication, but in doing so,are we subject to the Law of cause and  effect? *** Yes, Of course because Cause and Effect is a part of the Human experience, too. We are all conditioned in different ways and we have to adjust to what I'll call "various frequencies."

Polymorphism, or multi entities joining together for communication seems possible. How do you manage their messages?

*** I'm not really sure. As I mentioned on the show with George, I'm not entirely sure how my abilities work, I just know how to work with them. I've learned my way through my abilities much like a blind person would learn how to work with his/hers and have rarely met others who are like me, or who are on my psychic level.  That's why I mentioned that I hope to someday meet a scientist who is studying in this area, I have always been the type of person who wants to know how things work. I remember taking apart an antique clock that never kept accurate time when I was a child to figure out how it worked.  Then I was able to put it all back together without help and I actually figured out how to make it keep accurate time. But I have no conscious memory of how I did it. I just did. This seems to be common in playing musical instruments too. I can play anything you put in front of me within just a few minutes.I attribute this to past lives. But on a scientific level, I believe that our brains are much more powerful than we give credit. If past lives are real, it would make sense that I have retained information from the past and am utilizing it in the present. To most people,that sounds so "Science Fiction," but to me its logical. 

When receiving information from the other realms, must you consciously contact this Force, or is IT just present and assisting your intent?

***I have taught myself how to turn On the ability and how to turn it Off as well. I'm including my rates for readings just in case you are interested or know of someone who might like to experience it for themselves.   Best to you and yours, Michael Kouri

Dear Michael,I was blown away again!  You actually took the time to answer  my questions...  You are indeed a rare individual!  Thank you, Thank you.  And, thank those wonderful souls who are assisting you.I hope I can return the favor, Michael...Here is a book and author I recommend as part of your/our journey:God's Whisper; Creation's Thunder: Echoes of Ultimate Reality in the New Physics by Brian Hines Out of print, but the author is living and the book can be obtained. Mr. Hines is both scientist/mystic, maybe he can help you with your understanding of your gift using science/spiritual science...Best to you and yours, Jeff Kunz Maryland.

***My second reply to Jeff Wednesday March 24, 2004

You're very welcome Jeff, and thanks for the book titles, I'll certainly look into finding them. I appreciate your kindness and wish you all the success the world has to offer you.

Cheers,

Michael J. Kouri

Hello Michael,   While surfing the web I was directed to your site.  I found it to be a meaningful contribution to the world of parapsychology. We need more wonderful people like you in the world. Thank you for all you do to help humankind. Then I heard your interview on Coast to Coast and realized I'd heard you on the Mother Love show many years ago. I was so pleased to hear the high energy in your voice today as yesterday and wish you much success in all that you do.

Forever yours, Renee Zimmerman - New York, N.Y.

Thank you for a very interesting interview on Coast to Coast I'd like to book a telephone reading with you.  (I will be tired at work today, but it was well worth staying up to hear you, I'I've seen you on many television shows - thank you!!)  Judy - Maryland.

Dear Michael J. Kouri,  I heard you on Thursday morning March 11, 2004 at 5:12 AM on Coast to Coast with George Noory.... Only heard a few minutes of your program. I've never seen spirits or ghosts but have sometimes had chills in some places.  The chills happen when I'm thinking that there might be some entity present. But my question is this:  In 53 years on this planet, why have I never seen ANY spirits or ghosts?  Why have I never felt ANY connection with my deceased relatives?  Even though I've TRIED to be sensitive, and even though I BELIEVE - actually KNOW - that such spirits/ghosts/presences exist, I just never see or feel them to the point of really KNOWING that they're there. Why is that? Ken

My reply:

Dear Ken,

Many people try to be spiritual and open and never see or feel a thing.  I believe that some people try too hard to "see" spirits. My advice to you is don't worry about it. Just knowing what you believe to be truth is more important than being psychic, seeing spirits and the rest.

I love helping people with my gifts, but there are those times I wish I was just like everyone else. Perhaps there is someone in your area whom you can study with. I offer several spiritual seminars that teach people the right way to meditate and "open" to the other side safely. You need to learn to ground yourself before you try to do anything in this arena. It can be dangerous - maybe you have a subconscious fear of actually seeing a spirit. But whatever the case,  I hope this helps you Ken, feel free to email me anytime - I don't have all the answers but am glad to try to help.  Though I am a professional psychic/medium, I'm still a student like you.   Michael J. Kouri

Now Michael Offers you a chance to experience a Communication Circle (Seance) with him...

You've seen Michael Communicating with spirits on national & international television, now you can meet Michael J. Kouri in person as he conducts a Communication Circle (a term he created to better explain a Seance.) In your own home. Since the age of 16, Michael has been sought out to conduct Seances for the Rich and Famous, on Radio and Television and now you can attend or host a session with Michael J. Kouri yourself.

Requirements: A Minimum of 4 people  (open minded to spirituality) It takes the energy of everyone around the table for the spirits to come through.  Using a variety of tools for spirit-communication including: highly sensitive tape recorder to capture EVP's, objects connected with your loved one, candles, incense and perhaps Michael will bring his Antique Seance Trumpet that he inherited from a British Medium.  

These Special sessions can be held in homes/offices or other places, however this isn't recommended for anyone who is mentally challenged. Michael will bless the space before and afterwards. You and your guests will be able to ask questions of the spirits and perhaps help them make their final transition into the afterlife. 

What to Expect: You and your friends will receive psychic readings from Michael with the aid of your spirit-guides. Remember when working with a Medium, the answers to your questions come through the Medium from your guides-he's only  the tranaslator for the spirits. Michael believes that no matter what any psychic tells you (whether it is him or another) the information isn't set in stone because you're in control of your own destiny and can make something happen or not. Michael NEVER tells you Negative things and works with the current events in your life. He'll only predict 6 months into your future. You can discuss Past Lives  if you wish. Unlike other psychics who only reply on the Tarot or a crystal ball, Michael reads Energy and will read your Aura, tell you how to balance and focus on your current issues.  Bring: pad and pen to take notes during the session. Video/tape recorders will not be permitted since they interfere with spirit activity. Bring Photos of loved ones/pets to hear about their energy as well.

Age: adults ages 18 & up. Requires a minimum of  4 and a maximum of 7people.  Prices depend on location of Communication Circle. Email Michael at icghosts2@hotmail.com or call our offices at to discuss the deatils at

(626) 791-1129   (sorry tickets are non refundable)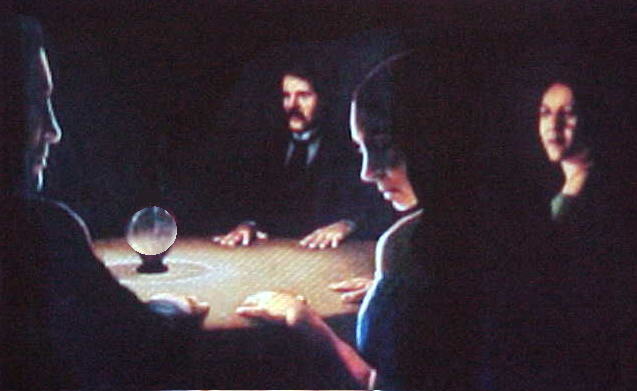 Reserve a Communication Circle with Michael  Tonight!           

World-renowned Psychic/Medium & Author Michael J. Kouri conducts a Communication Circle (Séance) at the Historic Whaley House in San Diego, Ca.

Reflections by Michael J. Kouri and SOHO member David Marshall

On a warm May night as the sun sank behind the Pacific, we began our efforts to communicate with the dead. Around a large wooden table sat the renowned Psychic-Medium and Haunted House Investigator and 13 curious SOHO board members, like myself. We were sitting quietly in the glow of candlelight waiting for the evening's main event, The Convocation of Souls or as Michael calls them a Communication Circle.

The host was Michael J. Kouri, famous Psychic-Medium Parapsychological Investigator who is also the published author of 13 books related to his personal encounters and paranormal research.  Kouri and his associates, most of whom were members of a paranormal research society, had submitted a proposal to SOHO to conduct an investigation of the long rumored ghosts who haunt the Whaley House. The co-organizer of the event was Rob Wlodarski, an archeologist and author of the popular book The Haunted Whaley House: A History and Guide to the Most Haunted House in America (with stories by Michael J. Kouri and his early experiences with the Whaley ghosts) Mr Kouri and Mr. Wlodarski also co-authored Haunted Alcatraz. Their intent was to monitor and record any paranormal activity as part of an ongoing investigation. Also in attendance was a small crew to videotape the event. Television journalist, anchor and thrill-seeker Michelle Garforth, who has done work for The Travel Channel, The Discovery Channel and ESPN, was also there, eager to witness the Whaley spirits.

At the dark table Michael laid out the ground rules (or below-ground rules) for all of us who were new to this, open your mind, don't be scared, hold hands, don't cross your legs and try to think of "yes" or "no" questions that the spirits might want to answer. Michael spoke calmly and directed each of us into a meditation for our own safety and noted that we should watch our toes and keep away from the table legs in the event that the spirits would want to use it as a tool of communication in answer to our questions.  He also told us that spirits are often times known to raise and lower tables during the normal course of events sometimes referred to as "table-tipping."

We were also told to remove all watches and metal jewelry because we could inadvertently get "burned by the increased energy" in the room. He instructed us that it takes the energy from everyone present to bring the spirits through – if they were comfortable with our energy and wanted to make contact and if anyone got scared during the event, Michael said they should just quietly leave the room, preferably not screaming.

The table was littered with tape recorders, a digital thermometer, an electromagnetic field meter, a compass, feathers, three candles, and a toy cradle that hopefully would be manipulated by our ghostly guests. After our orientation Michael spoke directly to the spirits as if inviting them to be with us, and instructing them how to communicate with us. They were told to communicate by raising or lowering the flame of the middle candle or by moving the table, chandelier, doors or other objects in the room.  Michael closed his eyes and instructed us to do the same as he lead us into a relaxed state, then he entered a trance and after about 5 minutes he declared; "there's a lot of presence in this room." It was about 9pm and our Convocation of Souls had officially begun.

One by one we went around the table, each of us asking questions. Many of the initial questions were to determine who among the list of famous dead was joining us. The first 20 minutes were quite uneventful and Michael had told us at the beginning this might happen, that it takes the full concentration of everyone sitting around the table to focus. The center candle barely moved, and the room was quiet (except for the Cinco de Mayo clean-up crews outside on the street). It's not easy to think of questions to ask of the dead. "How's the weather?" "Do you haunt here often?" Michael warned us not to ask how the ghosts had died because it might upset them since (in true Sixth Sense-speak) "some of these people don't even know they're dead."

In an attempt to broaden our discussion with the spirits I asked, "Did George W. Bush really win the election?" The candle flickered a "yes," and Michael noted, "ghosts can be biased too, and we all laughed." Michael's reading of the candle flame fluctuations was far from definitive but we all understood what he was trying to do here and were just as excited to see something, anything happen. As if to double check the answers of the spirits, he kept asking, "was that a 'yes'?" or "was that a 'no'?" and we all watched with amazement as the flame jumped up or down as if in answer to his questions.

Questions then began to get what appeared to be more emphatic answers, in the form of noises and movements from the table and around the room. First we heard a rapid tapping sound from the middle of the table. It first sounded like creaking wood, but it was too rhythmic and fast. It was like someone tapping out Morse code with pencils. All of our hands were flat atop the table and in clear view, so the night was starting to get interesting. The table antics then got more dramatic. The tapping seemed to travel around the table and we began to see and feel the table vibrating. One woman said it felt "like an aftershock to an earthquake." Several times we could see the corner of the table nearest Michael lift up and fall back with a bang as the leg hit the floor but then it lifted up on the other end nearest Michelle and dropped as if in answer to my query as to how this was happening. The light-hearted nature of our séance suddenly got more serious.

Many of the SOHO members were frightened when the action started but Michael reminded us not to get scared and Pat, one of the paranormal investigators, commented that this was pretty tame compared with her past experiences. The tapping and shaking continued. Questions were asked if Thomas and Anna Whaley were with us as well as "Yankee" Jim Robinson who, was hanged at the site before the house was built. Questions about Violet Whaley, Thomas and Anna's daughter who reportedly committed suicide as a young woman on the property, brought even more aggressive responses. The rattling was louder and quick, the chandelier in the room, which had been still all night, began to swing casting shadows on the 4 walls surrounding us.

Having been a witness to the evening's events, I must admit that I don't have a logical explanation for what I heard and saw. The candle flame was unconvincing, even though it was in the middle of the long low table far away from anyone's breath, but the table noises, movements and shadows defied easy explanation. Even though the part of the table that raised and dropped was mostly near Michael, his hands were flat on the table and his legs were not near the corner that lifted.

During a break I looked under the table and sat in Michael's seat. He is a very tall man way over 6 feet and had to sit with his long legs spread apart  (must have been quite uncomfortable) because he was so tall and the table is very low - his legs wouldn't fit underneath. My knee could easily reach the bottom of the table, but I wasn't able to lift the corner like I'd witnessed. There were two non-psychics sitting next to the moving corners and if they were making it move I don't see how. Plus the rapidness of the shaking and tapping would make it near impossible for someone to use their leg without it being obvious.

The spirits apparently wandered off during our intermission because the table rattling didn't resume and the candle remained still. Our night of communicating with the dead was drawing to a close. As Regis might have asked, "Is that your final rattle?" The evening's drama was not exactly an episode of "The X-Files," but it was still a fascinating experience. Michael, Rob, Pat and the others were enthusiastic and seemed genuinely interested in documenting unexplainable phenomena at the Whaley House. Earlier in the evening I had asked Rob how the Old Town landmark compared to the many other haunted sites they'd investigated and written about. "On a scale of 1 to 10," he told me, "this house is probably a 15."

The Whaley House is open to visitors but call them  ahead of time to find out the museum hours of operation and be sure to tell them you heard about them on Michael 's website!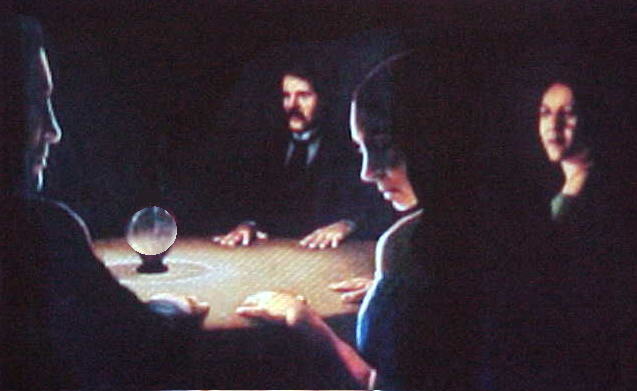 Upcoming Special Events You won't want to Miss!

World Renowned Psychic-Medium Author &  Parapsychological Investigator





More Letters to Michael J. Kouri continued

from the About Michael Page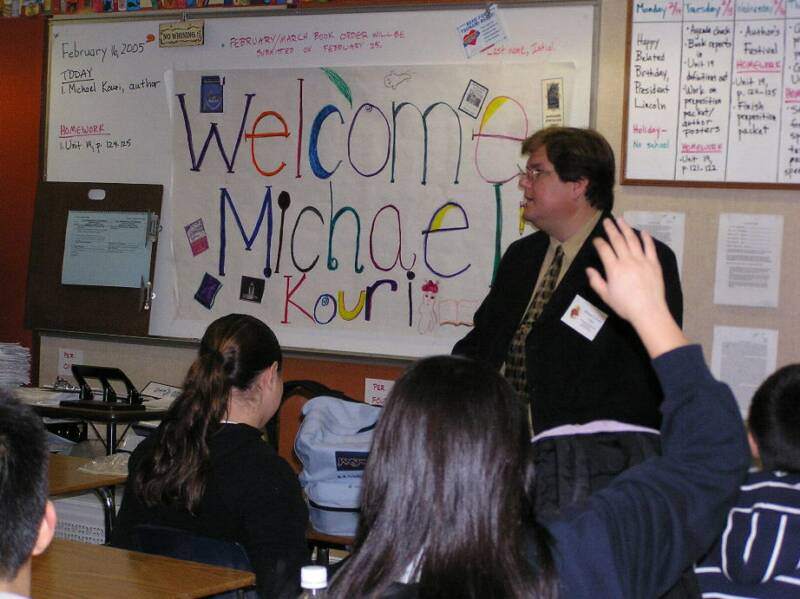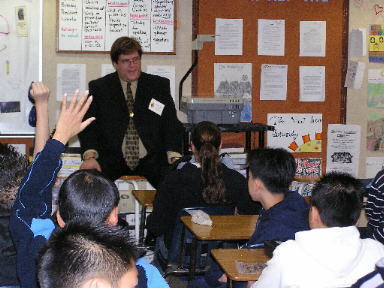 Michael J. Kouri  is one of  the busiest Mediums in America



Did you know that Michael J. Kouri makes House Calls?  To find out how to schedule a private Psychic Reading with him, a Hanted House Investigation, Ghost Tours, House Blessing or Communication Circle Go to the Tours Page...



All books ordered directly from our website come hand signed and numbered by Michael J. Kouri... Gift Certificates also available for Tour tickets, Books, Jewelry and CD's too! More Haunted Houses of Pasadena will be available in 2011...can you wait? Take Michael's tour of haunted Pasadena. We offer tours all year long...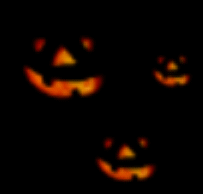 Watch Michael's  Television Show Investigating The Unknown with

Michael J. Kouri 



Pay with your Mastercard, Visa or Discover

Credit Cards with Michael directly on our secure server. NOTE: Our Shopping Cart is temporarily down, Please call Michael at (626) 791-1129 or Email him directly with your order - Thank You!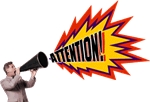 Haunted House Tours Ghost Tours of Los Angeles, Hollywood, Pasadena & Orange County

Listen to Michael's past shows with George Noory on Coast to Coast  640 Am & Be sure to watch for Michael on dozens of TV shows on the History, Travel, SciFi, Home and Garden A&E and many other cable channels.  Dare to take one of Michael's Ghost tours this Halloween Season... See the Tour Tab at the top of this page ***NOTE*** Halloween Tours fill up Fast, so reserve today!

Michael is available to conduct Communication Circles (Seances) House Blessings or Haunted House Investigations any time of the year, as his schedule is available.  Or dare to take one of Michael's Famous Ghost Tours.

                   Click on the Calendar link above for availability.

    Call our offices at (626) 791-1129 or email us with your inquiries at

                                     ICGHOSTS@HOTMAIL.COM

  Current Lecture Schedule for 2011/2012  Available on the Scheduled Events Page, click on the tab above for more information

Note: dates and times may changewithout notice

Did You Know :

Michael J. Kouri is the first Psychic-Medium in the world to have his own Paper Doll and a Doll Lineness made of him... See both of these unique items at lectures listed here and be one of the first to own them!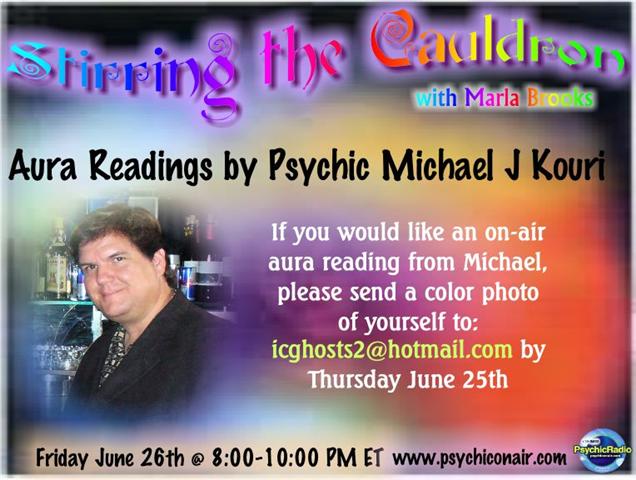 Michael now offers Psychic Pet Parties & Haunted House Dog Walking Tours open to people and their dogs... Email us at the address above or call our offices in Pasadena, Ca at 626-791-1129 for more info... A new way of Psyhic Fun!

Or Host a Psychic Party with Michael in your home with your friends...

Michael will answer your questions, introduce your personal spirit guides and read your Aura, as he did on Marla Brooks Radio show-Reasonable pricing-Find out why Michael reads for hundreds every year.

Email: icghosts@hotmail.com

Michael J. Kouri appeared on Stirring the Cauldren with Marla Brooks in June 2009,  He now offers Psychic Parties & his famed Communication Circles (Seances) anywhere in the world...contact us directly by emailing icghosts@hotmail.com

                        Visit the Tour Page by clicking the tour tab above and a friendly ghost will whisk you there... just follow the floating candles.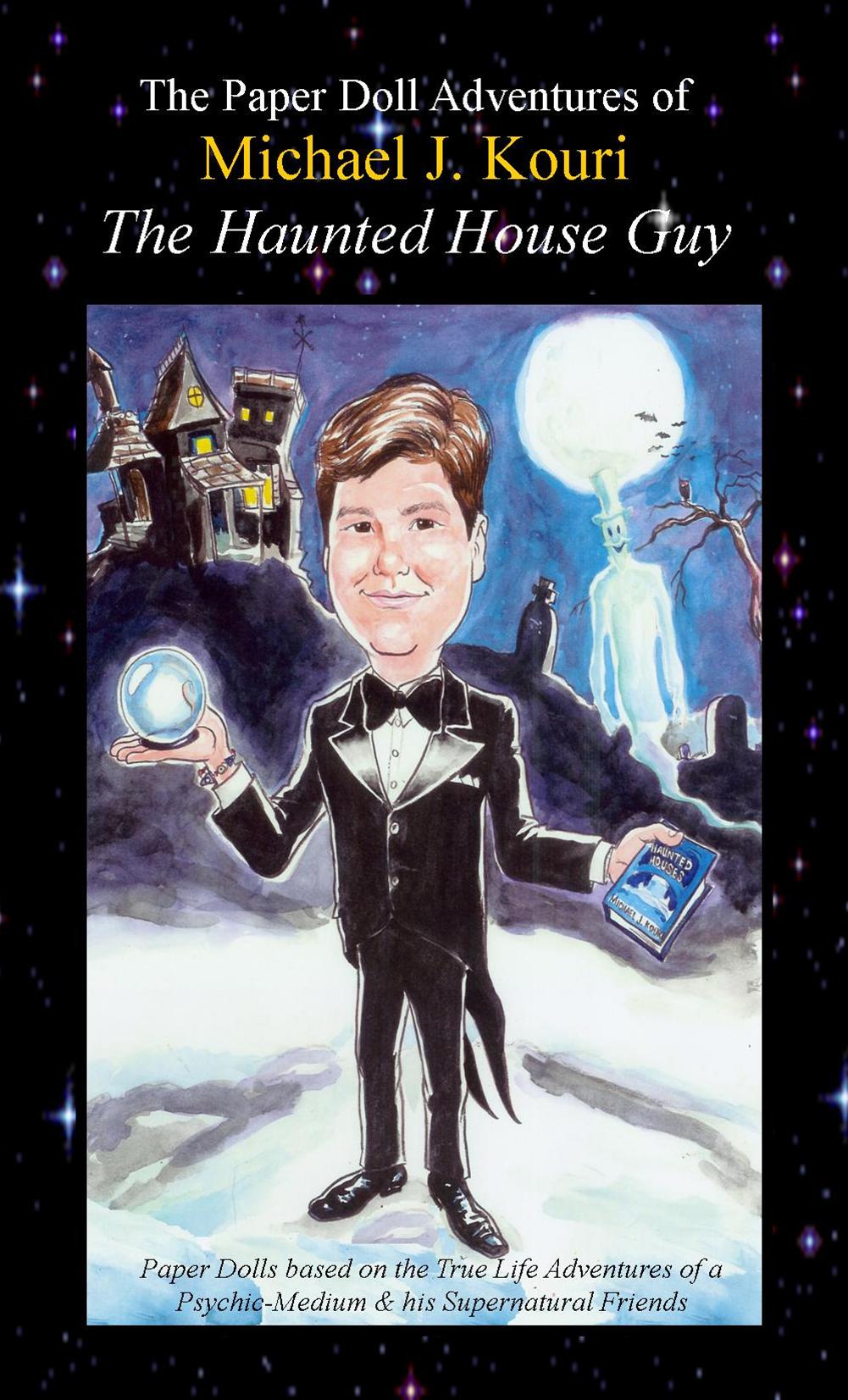 Paper Doll Price $24.95 plus shipping

Get your Limited Edition Signed and Numbered copy while they last